Home>
Village Pages>
Cold Ashby>
Village News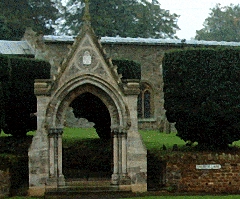 Top of Page
Don't forget to check our Events Diary for more information on events in all our villages and surrounding area.
GLORIOUS GARDENS
It was so lovely to be able to open once again this year and we welcomed lots of visitors to our 12 beautiful gardens.
Despite the heat, everyone had a lovely afternoon wandering round the village and enjoying tea and cakes in the shade.
All proceeds raised are in aid of St Denys church.
CLEARING UP AFTER YOUR DOG
Your correspondent has been asked to remind dog owners that picking up after your pets and proper disposal of dog waste, securely wrapped and in a bin is a legal requirement.
We have several strategically placed dog waste bins in the village which would seem the obvious choice.
It is legal also to place bagged waste in a litter bin or your own black waste bin at home.
From my own observations while walking the lanes, footpaths and bridleways around Cold Ashby I can confirm that the majority of our dog owners take special care to keep our village free of this danger to health and we thank you sincerely for this.
However, abandoned full bags can still be seen on rights of way and in hedges. This practice is officially 'littering' and can lead to the same penalty as dog fouling. Finally, please also remember that for everyone's health and safety, dogs are not permitted on the playing field or children's play area.
Local news from the Northamptonshire villages of Cold Ashby, Cottesbrooke, Creaton, Guilsborough, Hollowell & Teeton and Thornby.
Last updated Saturday, August 28, 2021
Copy deadline for next printed edition: Wednesday 1st September 2021