Top of Page
Home>
Village Pages>
Thornby>
Village News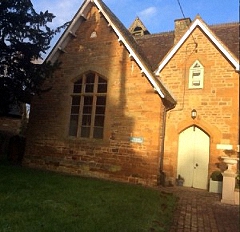 VILLAGE HALL
Thornby Village Hall is available to let
This small and intimate Village Hall is suitable for Childrens' Parties, Meetings, Talks, Demonstrations, Yoga, Sales etc.
For more information contact 743860.
BIRTHDAY GIRL SHARES GOLDEN MEMORIES
Thornby's longest serving resident, Ivy Hayes will celebrate her 98th birthday on 28th July. Ivy Bott was born in Naseby and her parents moved to Thornby when she was one, thus Thornby has always been home for her. During a recent conversation with her she painted a picture of lost community rural life in our village. Shortly after coming to Thornby, her parents had her baptised in our village church of St Helen, the vicar using the hundreds of years old font that can be seen and is used today. Ivy was educated in the village school, now the village hall. As she grew up she was a chorister at St Helen and later, joined the Mother's Union.
In 1948 Ivy married Keith Haynes who's family owned and farmed Hazelbech Grange. They married at St Helen and had their wedding reception in the reading room, now a private home. The couple lived in various houses in Thornby whilst Keith followed his career as a self employed farm contractor.
During the war, Ivy worked for a ladies tailoring business in Market Harborough, lodging with an aunt during the week. She worked there for a total of about 6 to 7 years. Once married, as was tradition, she stopped working and looked after her house, husband, plus her aging parents. Ivy and Keith shared 57 years of marriage and together with Ivy's brother, Eric Bott, used to enjoy attending village events, such as the fetes and summer BBQs held to raise funds for both St Helen and the village hall.
We all wish Ivy a very happy birthday and wish her well as she embarks on her 99th year.
Don't forget to check our Events Diary for more information on events in all our villages and surrounding area.
Photos:
Above, wedding at St Helens, Thornby 1948
Top right: aged 15, with brother Eric outside Thornby Hall
Right: enjoying a drink at the Red Lion in the 60s
Far rightt, celebrating her 90th Birthday
Local news from the Northamptonshire villages of Cold Ashby, Cottesbrooke, Creaton, Guilsborough, Hollowell & Teeton and Thornby.
Last updated Monday, August 2, 2021
Copy deadline for next printed edition: Wednesday 1st September 2021