Home>
Village Pages>
Cold Ashby>
Village News
Don't forget to check our Events Diary for more information on events in all our villages and surrounding area.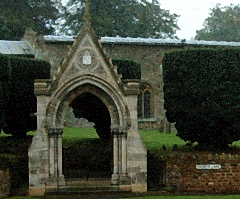 Top of Page
AMAZING CHARITY FUNDRAISER AT THE COLD ASHBY PLAYING FIELDS
Following the sudden, untimely and unexpected death of a young man, Shaun Taylor, who sadly passed away on the 19th May 2019 at the tender age of just 26, his parents and family decided to hold a charity fun day to commemorate Shaun's life. Shaun left behind a wife, Vickie, and his two gorgeous boys, Oscar, five and Ethan, only four.
To give his wife, boys, family and friends some comfort, a fun day was planned as a fundraiser to install a memorial bench in the playground at Cold Ashby Playing Fields. Shaun spent many hours there with his boys, nieces and nephews in the playground and playing tag and football with the children. He also taught the boys to ride their bikes here.
So, on the 15th September, the weather was perfect, the turnout was amazing and the support was incredible. It was, despite the circumstances, a fun, happy day. So successful was the event, that in addition to the funds raised for the memorial bench and tree, £4,000 was raised for the air ambulance which attended to Shaun. The Taylor family went to the Air Ambulance Base Unit in Coventry on the 9th October to present them with a cheque.
Both Cold Ashby Playing Fields Association and the Taylor family want to thank each and every one who helped them achieve this; it was absolutely amazing!
They are planning to do it again next year - bigger and hopefully better.
CAPFA have decided not to hold a Film Night in December as it would be at a very busy time so close to Christmas. However, on
28th January 2020
they will be showing Blinded by The Light, a comedy drama set in Luton in 1987 and based on Greetings from Bury Park by Sarfraz Manzoor.
Forthcoming Film and Social Nights
NEW TO COLD ASHBY:
Short Mat Bowls sessions are from 2.00pm to 4.00pm on Fridays in the Village Hall. All equipment is provided (flat shoes are recommended) and coaching is also available. Everyone is very welcome to come along to have a go!
For more details please contact Gillian on 01858 575725
Cold Ashby
Saturday 21st December, 5pm
Join us at St Denys Church!
Local news from the Northamptonshire villages of Cold Ashby, Cottesbrooke, Creaton, Guilsborough, Hollowell & Teeton and Thornby.
Last updated Sunday, December 1, 2019
Copy deadline for next printed edition: Monday 6th January 2020