Home>
Village Pages>
Cold Ashby>
Village News
Don't forget to check our Events Diary for more information on events in all our villages and surrounding area.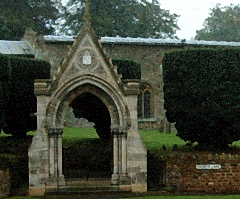 COMMEMORATIVE BENCH INSTALLED IN COLD ASHBY
Cold Ashby is now the proud owner of a memorial bench, commemorating the centenary of the end of the First World War.
The design incorporates images of soldiers, crosses and poppies, and it is one of dozens of steel benches that have been installed in towns and villages across Daventry District.
You'll find the bench outside St Denys Church in a quiet sheltered spot on the south facing side, which is a lovely sun trap during the warmer months. Next time you're out walking in and around Cold Ashby, why not head through the churchyard and enjoy a moment's pause?
Top of Page
COLD ASHBY CINEMA SOCIAL EVENING WITH FILM
These fund-raising social evenings are incredibly good value at £5 which includes cheese & biscuits
and a small glass of wine during the interval.
Everyone welcome!
The next 2 films CAPFA are showing at the Pavilion, Stanford Road at 7.30pm are:
Tuesday February 26th : Bohemian Rhapsody - Biographical film about British Rock band Queen.
Tuesday March 26th : Jonny English - Spy comedy staring Rowan Atkinson
Local news from the Northamptonshire villages of Cold Ashby, Cottesbrooke, Creaton, Guilsborough, Hollowell & Teeton and Thornby.
Last updated Thursday, January 31, 2019
Copy deadline for next printed edition: Sunday 3rd March 2019