Home>
Village Pages>
Cold Ashby>
Village News
Top of Page
Don't forget to check our Events Diary for more information on events in all our villages and surrounding area.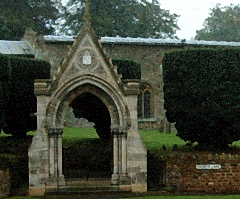 CAPFA Social Evenings with Film
On the fourth Tuesday of every month, Cold Ashby Playing Field
Association holds a social evening where we show a film. This is an opportunity to meet neighbours and an evening of entertainment. Wine and cheese are served at half time as well as sweets and choc ices for the younger guests.
There is a modest charge for the snack: Adults £5.00 - Children £1.00
The Next film is:
28th August Your Feet
When "Lady" Sandra Abbott discovers that her husband of 40 years is having an affair with her best friend, she seeks refuge in London with her estranged, older sister Bif. The two could not be more different - Sandra is a fish out of water next to her outspoken, serial dating, free-spirited sibling. But different is just what Sandra needs at the moment, and she reluctantly lets Bif drag her along to a community dance class, where she starts finding her feet.
PROMS EVENING RAISES £600 FOR ST DENYS CHURCH
On Saturday 16th June, over 80 people gathered at The Byre in Cold Ashby for the village's annual church fundraiser, 'Proms in the Paddock'. The weather stayed dry and the evening was a great success thanks to a fantastic live performance from Kettering Town Silver Band, who entertained the audience with a stirring setlist of foot-tapping tunes. Amongst them, the band played Land of Hope and Glory, Jerusalem, and a lively melody of singalong Disney classics - needless to say, there was plenty of patriotic flag-waving and hearty singing. In total the event raised over £600 for St Denys church in Cold Ashby.
Deborah Sampson, Church Warden, said: "Thank you to all those who joined us, we were delighted to see so many people and lots of new faces. Once again the band was superb and we were treated to a magnificent sunset as they played their finale (see photo on opposite page). Next up is our Open Gardens weekend and we look forward to welcoming you all on Saturday 28th and Sunday 29th July."
Local news from the Northamptonshire villages of Cold Ashby, Cottesbrooke, Creaton, Guilsborough, Hollowell & Teeton and Thornby.
Last updated Wednesday, August 1, 2018
Copy deadline for next printed edition: Monday 3rd September