Top of Page
Home>
Village Pages>
Creaton>
Village News
Don't forget to check our Events Diary for more information on events in all our villages and surrounding area.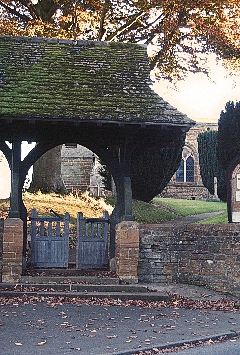 CREATON WALKERS
The weather has been perfect for walking and seeing the harvest being gathered in. Creaton Walking Group have enjoyed walks in the Cold Ashby and Twywell areas over the summer. September as usual coincided with the Ride and Stride for Historic Churches so the walkers explored the Long Buckby and West Haddon area, enjoying the historic buildings and the biscuits on offer!
We are a friendly group who love exploring our beautiful countryside. New walkers and well-behaved dogs are always welcome. Meet at Creaton lychgate at 10am on the second Saturday of the month for an 8 mile circular walk followed by an optional pub lunch.
Next walks are on:
Saturday 12 October
Saturday 9 November
Saturday 14 December
CREATON SINGERS
A big thank you from the Creaton Singers to everyone who so generously supported our concert which took place on 24 August in Market Harborough.We raised £1,383 towards the completion of the extension to St Michael's Primary School in Kyirapatre in Ghana. The photos show the singers relaxing before the concert (above) and in action (below)!
With the onset of autumn the singers have turned their attention to Christmas and are working on a range of songs old and new.Dates for your diary to hear the Creaton Singers are:
Saturday 7 December and Sunday 8 December 2pm to 3:30pm: Welford Christmas Tree Farm
Tuesday 17 December: 7pm Singing on Creaton Green, followed by a mini concert in Creaton Village Hall at 7:30pm
Saturday 21 December 7pm: Kislingbury Church
We practice every Tuesday in Creaton URC on the High Street from 7:30pm to 9pm.New singers always welcome, especially Tenors and Basses.
OVER THE COUNTER - Tales from Creaton Village Shop
Well, it's been an action-packed few weeks in the shop. The highlight has to have been the first birthday - yes, Creaton Village Shop &. Post Office has been open one year, much to everybody's surprise. When pushed, no one could agree whether it had only been open a few months or even a couple of years, but all astonished to learn it has been one year.
In that first year the shop has sold over 14,000 newspapers and magazines, nearly 13,000 items of confectionery, and over 7,000 bottles of milk and cream. It has also sold 1,600 lottery tickets and 500 Scratchcards.
The birthday was celebrated with a party for the small army of volunteers that keep the shop going. Held in the Village Hall, there were games, a quiz and a chance for everyone to get together and chat about their experiences. Heather, one of the youngest, said how much working in the shop had boosted her confidence by meeting people of all ages.
BBC Radio Northampton's Tom Percival also spent the early morning at the shop, interviewing customers, volunteers, staff and members of the Management Committee. Some of the interviews went out live on the Breakfast Show and others were dropped in during the day. Lots of pictures did the rounds on Facebook,
CREATON W.I.
Octo 9th A.G.M.
November 13th The History of Ladybird Books by Bill Raven-Hill
We meet in the United Reform Church in the High St. at 7.30pm on the second Wednesday of the month. If the meeting is to be held at a different venue this will be stated.
We welcome you either as a guest or a new member. Come along to meet old friends or make new ones. Please contact Daphne on 01604 505546 for more information.
CREATON PLAYING FIELD ASSOC.
Quiz night
7.30pm, 16th November in the village hall
Tickets are available from Creaton Village Shop
CREATON PARISH COUNCIL
October Village Litter Pick & Coffee Morning
Saturday the 19th of October
10 to 12 Noon
Poppies Coffee Shop, URC, High Street, Creaton
Big Birthday
As many of you will be aware Creaton Village Shop & Post Office Celebrated its First Birthday.
We are sure our village benefits from this valuable community asset. Thank you to the Management Committee, Staff and Amazing Volunteers.
FRIENDS OF ST MICHAEL'S
HISTORY GROUP
17th October: Northampton Castle - Guy Ravine
21st November: Wallis Simpson - Roy Smart
Talks take place in St Michael's Church and start at 7:30pm.
They last approximately 1 hour and are followed by complimentary refreshments.
Annual membership is £14:50 or pay at the door, £3.50
Also look out for the
FOSM CHRISTMAS FAIR
VILLAGE HALL
Saturday 2nd November
10am to 12 noon
Instagram and Twitter.
The shop also ran a Birthday Prize Draw. To enter, customers had to spend £10 or more in one transaction to been given a free Draw entry. The draw was won by Elaine Warden of Creaton, who collected the basket of local food and drink from staff member Andy Fox.
This was also a time for all connected with the shop to reflect on its progress and its future. Subtle changes continue to take place to get the stock right. As well as the general products one would expect a village shop to sell, Creaton Village Shop increasingly specialises in local foods and products. "Local" is anything produced within Northamptonshire and also anything within a thirty mile radius of Creaton.is a good range of foods for people with special dietary requirements, particularly gluten and dairy intolerance.
And it must not be forgotten that this is a Community Shop, run by and for the good of the local community. For example, the shop can arrange home delivery for those who are unable to get to the shop through illness or infirmity. Be a part of the community and use Creaton Village Shop & Post Office.
Vigilis
Heather, one of our young volunteers, cutting the birthday cake
Food and chat at the Shop's First Birthday Party for the volunteers
Tom Percival talking to volunteer John Palmer
Above: BBC Radio Northampton's Tom Percival interviewing Ed Matts who brews Creaton Ales. Creaton Village Shop & Post Office is the only place the bottled version can be currently purchased!
Left: BBC Radio Northampton's Tom Percival interviewing Simon Robinson, the Operation Director of Creaton Community Benefit Society. CCBS runs the community shop on behalf of the local community.


Elaine Warden collecting her prize from Andy Fox
Local news from the Northamptonshire villages of Cold Ashby, Cottesbrooke, Creaton, Guilsborough, Hollowell & Teeton and Thornby.
Last updated Tuesday, October 1, 2019
Copy deadline for next printed edition: Monday 4th November 2019