Top of Page
Home>
Village Pages>
Creaton>
Village News
Don't forget to check our Events Diary for more information on events in all our villages and surrounding area.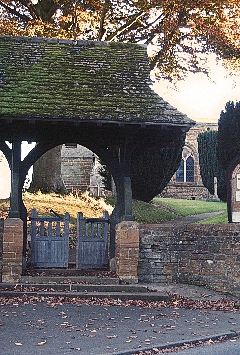 CREATON WALKERS
Autumn arrived suddenly with deluges of rain, leaving the fields very wet and the leaves turning to an array of brilliant colours.
The Creaton Walking Group have managed to get out every month and explore different parts of the county and also parts of Leicestershire and Warwickshire.
The October walk was from Lamport and covered some beautiful countryside. The Swan provided an excellent lunch afterwards for the walkers and made the dogs very welcome.
you enjoy walking come and join this friendly group who meet at Creaton lychgate at 10am on the second Saturday of the month. Walks are about 3 hours and end with an optional pub lunch. Walks will take place on
CREATON SINGERS
With the Christmas festivities almost upon us there are plenty of opportunities to get out and hear the Creaton Singers, who have been practising hard for a variety of events.
Christmas Tree Farm: The Singers will be singing a selection of Christmas carols on Saturday 7th December from 10.30am to 12 noon and Sunday 8th December from 2pm to 3.30pm.

Carols on Creaton Green followed by a concert in Creaton Village Hall: Tuesday 17th December, 7pm on the Green and 7.30pm in Creaton Village Hall. Come and listen to a selection of carols old and new. Admission is free with a voluntary collection for the Salvation Army.

Kislingbury concert: Saturday 21st December, 7.30pm.Kislingbury church.A varied programme of songs and Christmas numbers.
Come and support your local singers and enjoy the build up to Christmas.
OVER THE COUNTER - Tales from Creaton Village Shop
Gosh, what a busy couple of months. I am told that the trade in the shop and the Post Office just gets better and better—as does the selection of things on sale. In fact you may have heard that the Shop has been banging on about all the new things that it has on its shelves, especially all the local produce. There are now over thirty food lines that come from either within the county of Northamptonshire or within 30 miles of the shop. On top of this, many of the suppliers are based within that range as well. Hooray for local!
And it's hooray for local food heroes as Creaton Village Shop was nominated for the Weetabix Local Food Hero Award at the Carlsberg Northamptonshire Food & Drink Awards in November. In fact, not only was the Shop nominated, it was one of six finalists. This meant that representatives of the staff, volunteers and management committee had to force break out their glad rags and spend an evening at the awards ceremony at The Derngate.
Alas, the Shop came away empty handed but it was up against some stiff competition. A great experience and great that the Shop should be recognized in such a way. Thank you to whoever the mystery person was who submitted the nomination.
Vigilis
CREATON W.I.
We meet in the United Reform Church in the High St at 7.30pm on the second Wednesday of each month. If the meeting is to be held at a different venue this will be stated.
Dec 11th Jean Bates - ACWW (Associated Country Women of the World)
Jan 14th Douglas Goddard - History of Abington Park
We welcome you either as a guest or a new member. Come along to meet old friends or make new ones. Please contact Daphne on 01604 505546 for more information.
FRIENDS OF ST MICHAEL'S
HISTORY GROUP
19th December: Radio Days - Kevin Varty
16th January: William Cowper - Reg Darby
Talks take place in St Michael's Church and start at 7:30pm.
They last approximately 1 hour and are followed by complimentary refreshments.
Annual membership is £14.50 or pay at the door, £3.50
Creaton
Saturday 21st December, 5pm
Join us at
St Michael and All Angels Church!
Readers may recall a story on the front cover of Village Link about Creaton resident John Love (pictured right).
Now, his contribution to local and regional sport has been recognized officially by winning the 2019 Daventry District Sports Awards Lifetime Contribution to Sport. What next for John? Well, he has been nominated for a similar category on the Northamptonshire Sports Awards but we shall have to wait for that result.
Good luck John!
Local news from the Northamptonshire villages of Cold Ashby, Cottesbrooke, Creaton, Guilsborough, Hollowell & Teeton and Thornby.
Last updated Sunday, December 1, 2019
Copy deadline for next printed edition: Monday 6th January 2020