Top of Page
Home>
Village Pages>
Cottesbrooke>
Village News
Don't forget to check our Events Diary for more information on events in all our villages and surrounding area.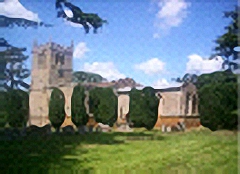 POINT TO POINT HORSE RACING
Emily Harris of Oak Cottage, Cottesbrooke made her debut as a Point to Point rider at the local Pytchley Hunt meeting at Guilsborough on Sunday 23rd April. Emily is pictured with Jo Messinger, resident of Creaton; the owner and trainer. Pictured before the first race the horse Martin Cash finished a creditable fourth. The jockey and horse survived, the trainer was much relieved and looked forward to future racing.
FUTURE EVENTS
Cottesbrooke Village
Gardens Open
27th May
Handlebards at Cottesbrooke Hall performing Twelth Night
7th July 7-9pm
Cottesbrooke Fete
29th July
Cottesbrooke Church will be open for Ride & Stride
8th September
ACTIVITIES FOR CHILDREN
The village children turned out for Easter Egg Colouring and Crafts at Cottesbrooke Village Hall on Saturday afternoon the 31st of March; the parents helped the children and assisted with the refreshments.
NATURE WATCH
A fox forgoes lamb for lunch during freezing weather and turns to feathered flock instead.
The fox was getting desperate for food as were other wild animals when the temperature dropped below zero. There was a flock of half grown lambs, bouncing and playing by our garden fence when I caught sight of a fox sitting under an apple tree nearby. The fox waited until they were very close then lunged at them twice. The problem was, the lambs were as big as the fox. It looked as if she realized that her eyes were bigger than her stomach, so she gave up and trotted away – still hungry. I learned that the farm next door had found chicken feathers the next morning where the fox had stolen a hen for a midnight feast.
DONATIONS
Large bags of clothing, fresh eggs and art materials were donated by residents of Cottesbrooke to The Hope Centre in Northampton.
IN PRAISE OF THE YOUNG PEOPLE IN THE VILLAGE
Young people are a great support to many of us in the Village. You will know who you are when I give recognition for the kindnesses you do. You take photos, do e-mails, read in Church, baby sitting; you help accompany your grandfather and younger brothers; you help fold tables in the Village Hall; you set up at the Fete and help with the parking; you drive tractors, mow lawns, do carpentry and change neighbours tyres; you cook meals and you are polite and thoughtful. You are great young people who have a variety of talents as well as a love of nature, sports and art. Keep up the good work.
INSPIRATIONAL SAYING
"We can never obtain peace in the outer world until we make peace with ourselves."
Dalai Lama
Garden Tour Evenings at Cottesbrooke Hall
Join Craig, our Head Gardener, for an exclusive after-hours tour of the gardens at Cottesbrooke Hall. Following a brief introduction and a glass of wine, Craig will lead you around the gardens discussing plants of interest, why they were selected and their
management.
The evening will finish with a Q&A session which will give you the opportunity to ask any horticulturally related questions, however simple or obscure they might seem.
Tickets now on sale at £20 per person for the following dates: Tuesday, 19th June from 6.30-9pm
Tuesday, 26th June from 6.30-9pm
Tuesday, 3rd July from 6.30-9pm
For more information and to purchase a ticket, contact 01604 505808. Numbers will be limited so an
early response is recommended to avoid disappointment.
MEMORIAL TREE PLANTING
On a cold and snowy spring Sunday, the 18th March, the Cazenove family and the Village Hall Committee, gathered together to plant a tree to commemorate Dick Cazenove for all the hard work he did for his village and especially the Village Hall. He was very proud of Cottesbrooke and took great interest in all the activites. We chose a Liquidamber as it was a favourite of Dick's. The Village Hall improved dramaticly in the last few years and is now happily in the hands of Henry Jackson and the Committee. My husband would be so happy to know how well the Hall is being looked after.
Olivia & Martha Whitworth, Dominic Cazenove, Susie Cazenove, Louise Talbot, Susie Bowley, Holly Walker, Henry Jackson, Derek and Yvonne Dawes and
Mike Roberts
Local news from the Northamptonshire villages of Cold Ashby, Cottesbrooke, Creaton, Guilsborough, Hollowell & Teeton and Thornby.
Last updated Wednesday, June 20, 2018
Copy deadline for next printed edition: Sunday 1st July