Top of Page
Home>
Village Pages>
Cottesbrooke>
Village News
Don't forget to check our Events Diary for more information on events in all our villages and surrounding area.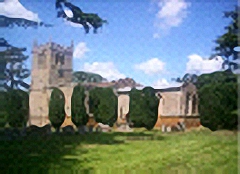 VILLAGE GARDENS OPEN
Visitors enjoyed viewing eight gardens in the village and cream teas at the Village Hall on the 27th of May. Congratulations to Joyce & Eric Wright who were the winners of the Cottesbrooke Gardens Open Day. A big thank you to all who took part on the day.
Cottesbrooke Cottage was open on Sunday, and also featured
in the Village Walk itinerary.
DONATIONS
A donation of washable building blocks was given to Northampton General Hospital for the Children's creative ward from the village.
"I have just returned from Zimbabwe where I was working on a very small 10,000 acre reserve that primarily focuses on rhino conservation as well as other animals such as elephants. Our daily routine consisted of waking up at 5.30am and going to the elephants (some mornings we would also feed and clear out the rhinos) to perform handling and teaching, all for the purpose of mental stimulation, and then clearing out their 'bomas' (enclosures) which took at least an hour and a half due to them excreting 10kg an hour as they eat up to 6% of their body weight a day! We would then always walk with the elephants and rhinos as they are allowed to roam around during the day but under protection at every moment- the anti poaching team who put their life on the line from being killed by poachers but also the animals, are totally incredible. Their skill and ability to track and look after these animals is mind blowing. We would also carry out tasks to help with the conservation of the animals such as rolling up telephone wires, knocking down brick walls, hoeing hectares of fields and building stone bridges, as well as a lot of work with the community such as teaching kids, helping with gardening, ploughing fields and handing out clothes. Working with the community is imperative as they realise the importance of the animals and learn to not poach them, as without the animals there, there would be no tourism and as a result they would suffer from the lack of help and money that the tourists bring to them. It is very hard for me to keep this passage so short as I felt that I learnt more in one month there than I have in 18 years, and every single day was different, so to write it all down is impossible! It was the most incredible experience that was humbling and impacting on many levels. The two biggest things that I have learnt is firstly how happy each and every person is out there, despite having SO little and it really opened my eyes to how lucky we all are, and also how rife the poaching has become
to the point that the people I was working with believe rhinos will be extinct within the next 5 years. It breaks my heart that we humans are the ones killing these such special and amazing species and are causing them to become extinct purely because as a race we are selfish and are killing them as a means to an end. I know that this is very brief, but it really was a life changing experience and I cannot recommend enough getting out there to work with amazing animals, amazing people and to be in Africa which is the most amazing place- it feels like you aren't on earth because of the landscape and all of the different things that you get to see every day. It changes your perspective on life. People told me before I went that it would steal my heart and it is fair to say that they were right"!
Isobel Macdonald-Buchanan.
FORTHCOMING EVENTS
A Produce Show to be held at the Village Hall – 8th September.
Ride and Stride is to visit Cottesbrooke Church also on the 8th September – it will be manned all day with refreshments available.
INSPIRATIONAL SAYING
"People are like stained glass windows. They sparkle and shine when the sun is out, but when the darkness sets in their true beauty is revealed only if there is light within" – Daily Word 27th July 2018
VILLAGE WALK
On the 22nd of June at 6.00pm Derek Daw led a Historical Walk through the Village finishing at the Village Hall with wine and cheese. A small village with a huge history.
How lucky I feel to be able to learn stories and history of the buildings in the village I grew up in and call home. I so enjoy sitting down with Derek when he visits our Yard and hearing tales of the village and Estate life.by over 60 people on Friday 22nd June for the stories to be shared, it made Cottesbrooke come to life.at the Village Hall the crowd followed Derek down to No 1 Station Road, finishing at Cottesbrooke Cottage and then back for Cheese and Wine at the Village Hall.you Derek for giving up yourto share your memories and knowledge of this lovely village with us, you are a true Gentleman!
Henry Jackson – Bothy Cottage
PLOGGING
"Plogging for the Planet" was shown on Sky TV on 9th June. Jogging became "plogging" in Sweden as joggers took rubbish bags with them and picked up plastic bottles, cups, straws etc. instead of leaving them on the path – an extremely good idea that we could all join in with, even if we are not jogging!
SKY WATCH
A rare sight – the only airworthy World War 2
Lancaster Bomber flew very low over Cottesbrooke
Village on Sunday 24th June on its way back to
base in Lincolnshire. The sound of the four
Rolls Royce Merlin engines thundering away is
so evocative and amazing.
Local news from the Northamptonshire villages of Cold Ashby, Cottesbrooke, Creaton, Guilsborough, Hollowell & Teeton and Thornby.
Last updated Wednesday, August 1, 2018
Copy deadline for next printed edition: Monday 3rd September