Home>
Village Pages>
Cottesbrooke>
Village News
Don't forget to check our Events Diary for more information on events in all our villages and surrounding area.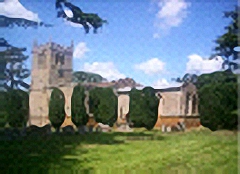 ALL SAINTS CHURCH COTTESBROOKE
CAROL SERVICE
The Service was led by the Rev. Dr Judy Peck. During the Service 10 years old Edun Rowe (pictured top left) played Christmas Music on his cello and children read the carols as well as grown-ups. Mince pies and sherry were served after the service. It was one of the best services ever.
INSPIRATIONAL SAYING
When I stand before God at the end of my life, I would hope that I would not have a single bit of talent left and could say, I used everything you gave me.
Erma Bombeck
NATURE WATCH
A new resident in the Village, Kyle Rix keeps a pair of Harris Hawks,
Blue the male and Mair the female who was rescued only has one eye.
Two stunning pictures;
hover over them to see
them enlarged
THE YOUTH OF OUR VILLAGE
Edun Rowe (Right) 10 years old started playing the Cello at school and was awarded a merit.
He auditioned for a place in the County Junior Strings in the summer and was invited to join in September.
Edun has been involved in several concerts at the Spinney Theatre, Northampton and will be playing at Derngate later this year.
THE CHRISTMAS FAYRE
Cottesbrooke Village Hall
Thanks to Suzie Bowley for organizing a spectacular Christmas Fayre. There were beautiful crafts for sale which were made by both local people and friends from nearby villages. Over £400 was raised for the Ama Ghar Orphanage in Nepal, congratulations to all of you who took part. Suzie is presently in Nepal as I write this.
NOTICE
A new Correspondent is needed for the Village Link in Cottesbrooke. Please join the Village Link editorial team in extending our thanks to Chris Utley for doing an amazing job over the last few years in sharing and contributing to Cottesbrooke village life. She tells us that she will still be supporting village events, but is seeking someone else to take over writing up the content and sending it over to us.
ANY VOLUNTEERS?
Top of Page
YOUR VILLAGE LINK CORRESPONDENT
This will be my last submission.
I would like to say a Big Thank You to you all for sharing your stories with me. Please continue to send in all the news, stories and photos from Cottesbrooke as you have done in the past. I have really enjoyed this position. God bless your future.
Chris Utley
GARDENING IN 2019
Plant generously from the fruit of the spirit; Love, joy, peace, patience, kindness, generosity, faithfulness, gentleness and self control. Boundless possibilities blossom in the garden of your life. Enjoy it.
DONATIONS
Thank you!
Perhaps the warm Duvets came from you. Seen on a freezing cold day – two homeless men sat on the pavement wrapped up in their duvets.
Toys have been given to Barnardos and Todler groups in the Benefice.
NGS GARDENS OPEN
Cottesbrooke Hall Gardens
Cottesbrooke
NN6 8PF

Sunday, 5th May
2pm – 5.30pm
Local news from the Northamptonshire villages of Cold Ashby, Cottesbrooke, Creaton, Guilsborough, Hollowell & Teeton and Thornby.
Last updated Thursday, January 31, 2019
Copy deadline for next printed edition: Sunday 3rd March 2019