Home>
Village Pages>
Cottesbrooke>
Village News
Don't forget to check our Events Diary for more information on events in all our villages and surrounding area.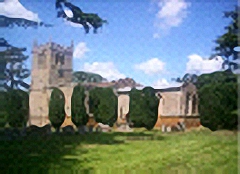 COTTESBROOKE CARES AND SHARE
Vicar Allison Twigg and Anne Strudwick joined parishioners in sending gifts from their Harvest Services to the Northampton Hope Centre at Oasis House. After learning of their needs they responded along with other residents of Cottesbrooke by sending: 10 trays of eggs, toiletries, fresh fruit & vegetables, an envelope of cash and shelf goods.
INSPIRATIONAL SAYING
Native American Wisdom
You have a choice in life to make, a choice on which path to take. Try always to choose the right path, your conscience within you knows. Truth is freedom and happiness. "Your faith will make you free". May God richly bless your path.
NATURE WATCH
My garden is a 'Theatre of Nature', you never know what to expect on the stage. This morning's early performance was a buzzard as it
caught its prey, not my cup of tea! The really funny "show" was a squirrel punching a pheasant on the chest as they fought over a crust of bread like two boxers.
HALLOWEEN ON HORSEBACK – TRICK OR TREAT
On 29th October children from "The Jackson's Stables Cottesbrooke" rode through the Village on their ponies, wearing masks and costumes and begging for "treats" from residents. What a sight. While one neighbour handed treats to the children, one pony pulled at her jacket as if to say: "Don't forget me I am behind you! "When night came, "Jack o' Lanterns" flickered along walls and gateways of the village. Some pumpkins had intricate details carved in them, quite an exhibition of talent!
COTTESBROOKE VILLAGE HALL
"Bangers & Mash" at Cottesbrooke Village Hall on Friday night October 19th was a record-breaking success. The weather was fine and the valuable raffle prizes donated for the evening's fun.
Lots of preparation and hard work goes into this special supper. "Nobody leaves" 'till the dishes are done!! There were a few people who stayed to clean up. So, thank you to each helper in our village and their guests who came for such a great evening. Congratulations to the chairman of the Village Hall and his Committee for all the hard work and success achieved.
CRAFT AFTERNOON
A craft afternoon for children took place on Saturday 3rd November in the Village Hall, with parents and Vicar Allison Twigg in attendance. We were fortunate to have Charlotte Hale as our craft teacher. She gave the children the opportunity to create and decorate their own ornaments. Charlotte also does flower arranging. We are grateful to her for taking the time to lead the children for the afternoon. Parents and visitors enjoyed a relaxed time with cups of tea and coffee as they watched the young artists at work. It was an enjoyable time for us all. Everyone worked together to clean up before they left. Thank you all 'so, so much'. What a wonderful community we live in.
NOTICE
A new Correspondent is needed for the Village Link in Cottesbrooke. Please join the Village Link editorial team in extending our thanks to Chris Utley for doing an amazing job over the last few years in sharing and contributing to Cottesbrooke village life. She tells us that she will still be supporting village events, but is seeking someone else to take over writing up the content and sending it over to us.
ANY VOLUNTEERS?
FROM COTTESBROOKE …
TO CREATON POST OFFICE
You're doing a great job! Happy Christmas from Chris Utley
Top of Page
FORTHCOMING EVENTS
A "Christmas Fare" will be held at the Cottesbrooke Village Hall on the 1st of December from 2-00pm to 5-30pm. There will be lots of Homemade Crafts, Tea & Cake, and Crafts for the Children and a visit from Santa. Entry is £1 per person with all the proceeds going to the Ama Ghar Orphanage in Nepal.
The Christmas Carol Service will be held at All Saints Church Cottesbrooke on the 16th December at 3-00pm.
Riders from the Jackson's Stables, Cottesbrooke
Local news from the Northamptonshire villages of Cold Ashby, Cottesbrooke, Creaton, Guilsborough, Hollowell & Teeton and Thornby.
Last updated Friday, December 7, 2018
Copy deadline for next printed edition: Wednesday 2nd January 2019