Top of Page
Home>
Village Pages>
Cottesbrooke>
Village News
Don't forget to check our Events Diary for more information on events in all our villages and surrounding area.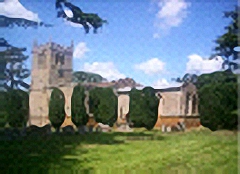 PLASTIC REDUCTION
Don't buy a bag – use a box or re-use your own bag! Many people already do.
NATURE WATCH
The finality of summer was vividly pronounced on Tuesday 14th August by a large group of House Martins, preparing to migrate, swooping down the side of our house, cascading like a waterfall and rising like surf time and time again. At 6:50 pm they were all gone. What a strange sensation it was to stand looking through our glass doors. It was like being on the underside of a "waterfall" of House Martins. Chris Utley
INSPIRATIONAL SAYING
Native American Wisdom
From father to son, I am poor and naked but I am the chief of the Nation. We do not want riches but we do want to train our children right. Riches would do no good, we could not take them with us to the other world.
We do not want riches we want peace and love.
Joanne Tromans & Dylan Hartley were married at All Saint Church Cottesbrooke on Saturday the 7th of July by our new Vicar the Rev. Allison Twigg.
RAIN OR SHINE ……
THE FETE GOES ON
Patience, perseverance and a positive attitude is a trait of Cottesbrooke villagers.
Thank you to all of you who helped in the setting up in the drizzle and to all of you who attended. Teas and cakes were exceedingly popular that day!
A big thank you goes to the Macdonald Buchanan family for allowing the village to use the gardens of Cottesbrooke Hall for the Fete.
Children from the village helped to sort the toys for the stall.
Hover over an image to see it enlarged
PRODUCE & CRAFT SHOW
The inaugural Cottesbrooke Produce Show was held by the Village Hall Committee on Saturday 8th September in the Village Hall.
Thirty seven exhibitors entered 123 exhibits in 25 classes! The best in show award, sponsored by Ensase Consultants, was won by Julie Westaway for her collection of garden produce.
The Village Hall Committee would like to thank all those that entered, printed show schedules, helped with the teas, provided cakes, the auctioneer, those that sold plants and the five judges. £453 pounds was raised towards the upkeep of the hall.
Local news from the Northamptonshire villages of Cold Ashby, Cottesbrooke, Creaton, Guilsborough, Hollowell & Teeton and Thornby.
Last updated Wednesday, October 3, 2018
Copy deadline for next printed edition: Wednesday 7th November 2018